Water Tank Cleaning Services in south Delhi
We have a professional and high experienced team of experts to provide underground and overhead water tank cleaning services in Delhi, Gurgaon, Noida, Faridabad. Our experts using the latest equipment  and not using any harmful chemical for your water tank cleaning.
jyshman water tank services
Water Tank Cleaning Services in South Delhi
Jyshman Tank Cleaning Services in South Delhi has been serving the community with dedicated water tank cleaning solutions for many years. Our commitment to uncompromising quality sets us apart. With a team of professional tank cleaners spread across various areas of South Delhi, we are well-equipped to meet your needs.
South Delhi's infrastructure and services are under strain due to rapid population growth and the establishment of numerous commercial and residential buildings. It is crucial to develop sustainable and safe water sources, and Jyshman's water tank cleaning services play a vital role in achieving this.
With years of experience in cleaning water tanks across different locations, we are your trusted one-stop solution. We value each customer and thoroughly inspect water tanks, providing expert advice tailored to South Delhi's specific requirements. We offer detailed information about our cleaning methods, ensuring customer satisfaction and peace of mind. Choose Jyshman Tank Cleaning Services for comprehensive water tank cleaning in South Delhi. Contact us today to experience our superior services and expertise.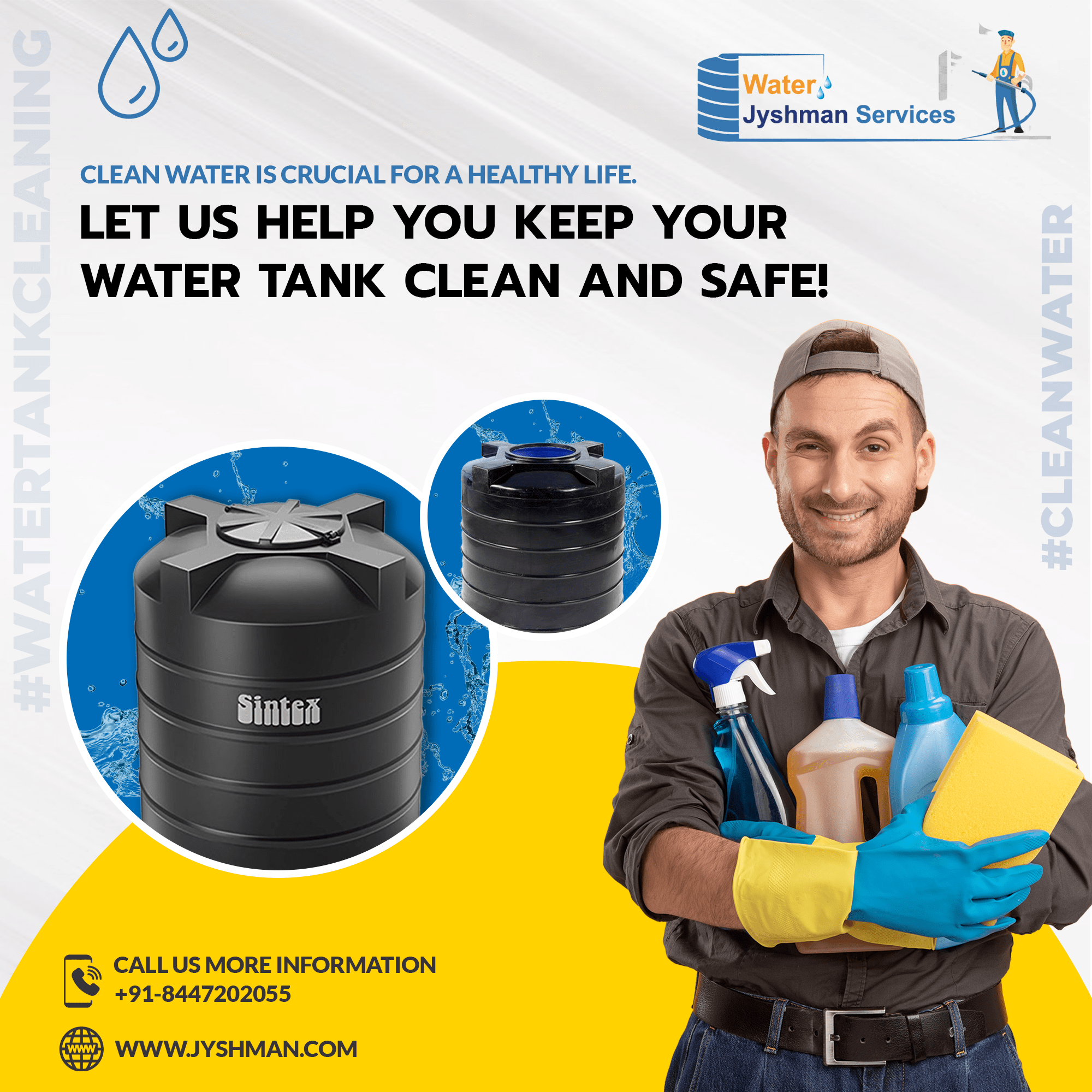 Water Tank Cleaning Concept
At Jyshman, we are aware of the crucial part of clean water plays in saving the community's health and prosperity. Our water tank cleaning services offer complete answers for making sure that your water supply is pure. With our knowledge, advanced methods, and dedication to quality, we work to get rid of toxins and protect your health.
Complete Tank Cleaning Services
Jyshman specializes in providing complete and in-depth tank cleaning services. Our team of skilled experts has the knowledge and experience to manage numerous tank types and sizes, whether you have a home, commercial, or industrial water storage system.
Getting Rid of Contaminants
Water tanks build up silt, bacteria, algae, and other impurities over time that can impair the quality of the water. These pollutants not only affect the water's surface and smell but also present health hazards. These impurities are removed throughout our tank cleaning procedure, ensuring that your water supply is kept safe from dangerous substances.
We uses modern cleaning methods to produce the best results. Modern tools and equipment are available for quick and thorough tank cleaning. To loosen and get rid of deposits, we use high-pressure cleaning methods, specialized brushes, and eco-friendly cleaning solutions.
Observing health regulations
We are well aware of all applicable health and safety laws regarding water storage systems. Our tank cleaning services are created to meet industry and residence standards by following proper regional health regulations.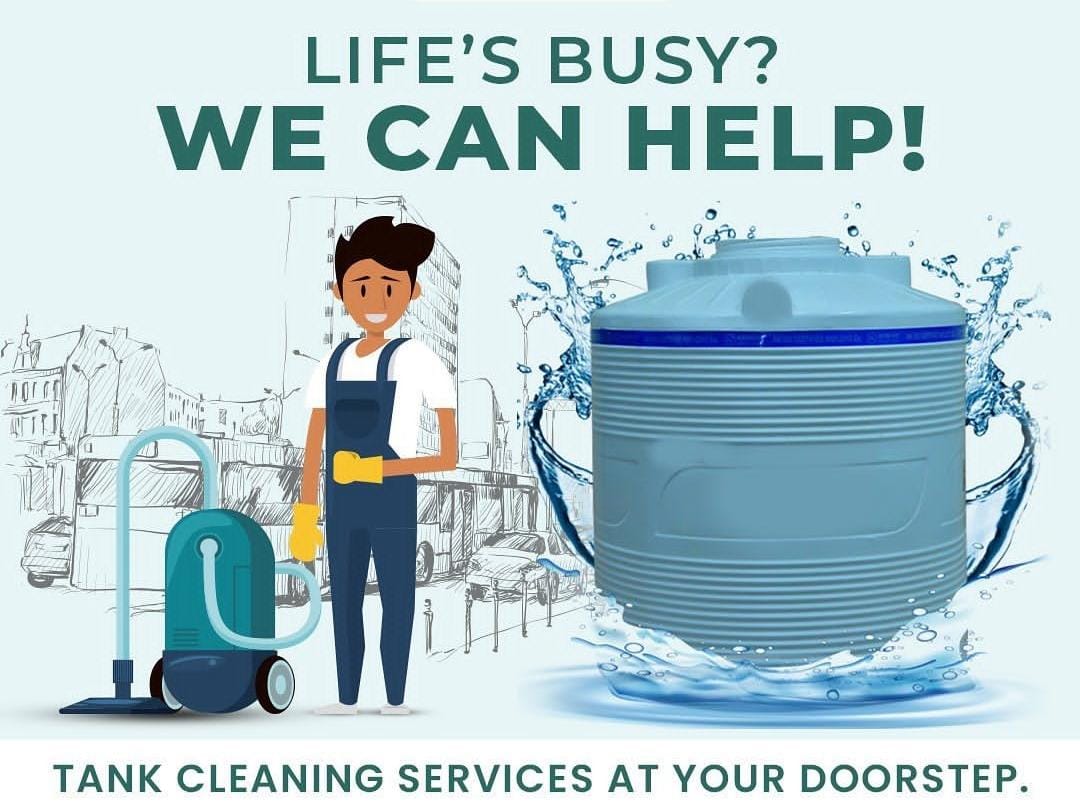 jyshman water tank services
Why Water Tank Cleaning is Important
Water tank cleaning is incredibly important for a few key reasons. Firstly, it helps ensure that the water we use for drinking and other daily activities is clean and safe. By regularly cleaning the tanks, we can remove harmful bacteria, algae, and other contaminants that can make us sick. Secondly, clean tanks help keep our water distribution systems working properly. When tanks get dirty, it can cause blockages and corrosion, which can lead to water flow problems. Lastly, regular cleaning helps maintain the quality and taste of our water, making it more enjoyable to drink. By prioritizing water tank cleaning, we can protect our health, keep our water systems functioning well, and enjoy clean and tasty water.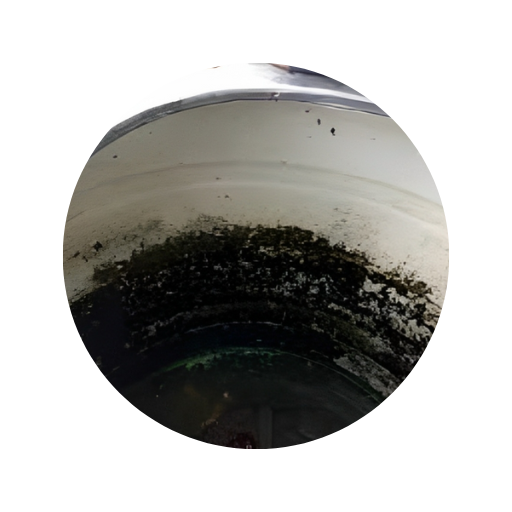 Overhead and underground water tank cleaning
Maintenance of the water tanks inside residential and office spaces/buildings.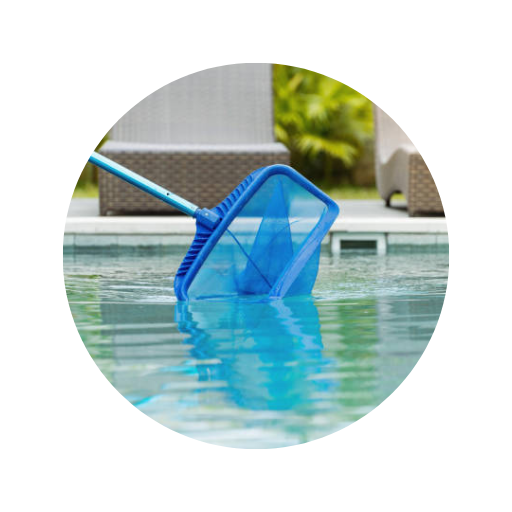 Swimming pool cleaning
Make your swimming germ free with help of swimming pool cleaning services that aim to enhance the qualitative lifestyle.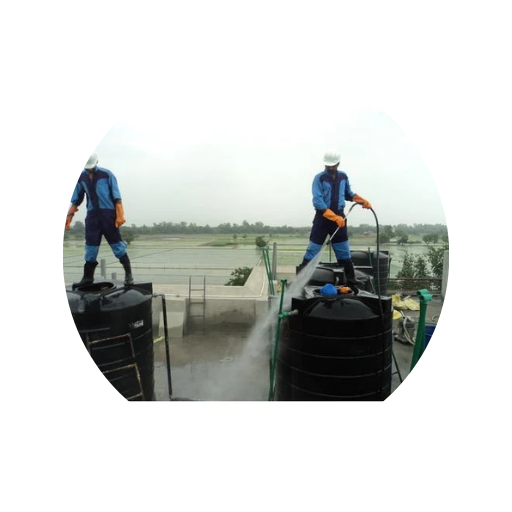 Plumber Services
Our services include plumbing installations, repairs, maintenance, drain cleaning, fixture replacements, and more.
Why Jyshman Cleaning Services in South Delhi
Jyshman water tank Cleaning Services in South Delhi stands out for several reasons. Firstly, we have extensive experience in the field, ensuring that we deliver reliable and high-quality cleaning services. Secondly, our dedicated team of professionals is strategically located across South Delhi, enabling us to provide prompt and efficient service to our valued customers. Additionally, we prioritize customer satisfaction and take the time to thoroughly understand and address their specific cleaning needs. Whether it's residential or commercial cleaning, we offer a comprehensive range of services tailored to the requirements of South Delhi. Choose Jyshman Cleaning Services for exceptional results, attention to detail, and a commitment to maintaining a clean and hygienic environment in South Delhi.
Our Mechanized Water Tank Cleaning Process:​
The cleaning of a tank involves several steps. The tank's surroundings must first be cleaned. Most of the tank's surroundings are made up of mud, dirt, and algae. Prior to dewatering the tank, it's critical to clean the immediate area. 
The water tank is automatically dewatered using equipment used by Jyshman water tank cleaning services. The tank's whole water supply is drained. The third stage involves the professional staff of the water tank cleaning and manually removing the sludge from the tank. The tank walls were then scrubbed after that. This cleans the concrete of filth, fungi, and discoloration.
In the fifth stage, we have high-pressure water jet cleaning. Extremely high-pressure water jets strike the ceiling and walls. This gets rid of the bacteria and germs that are there because of the moisture. Vacuum cleaning, the sixth stage, completely cleans the tank. Antibacterial agents that are safe for human use are sprayed into the tank. UV treatment is the final procedure utilized by the Jyshman water tank cleaning services. The floating or suspended bacteria in the tank are destroyed by UV radiators.